Professional & Effective Pest Control
We pride ourselves as a professional pest control company. Bird control, animal trapping, swallow bird control, decontamination, odor control, rodent control, bee control, bat control, and dead animal control are our specialties. We do every job with professionalism and effectiveness making sure to not only remove the problem, but to prevent it from reoccurring. We have a wide range of specialties and expertise in the pest control field.
For bird control we use a variety of effective products and techniques. Animal trapping is done humanely; animals are released to a more suitable area. Decontamination of infested areas is essential in removing health risks. Our rodent control at times fixes other pest control company's mistakes. We also have experienced and professional bee control technicians. What ever the pest problem may be we always have a solution for it whether it be in a residential, commercial, or industrial area.
Francis Animal & Pest Control is locally owned and operating in the states of Minnesota, Iowa, and Wisconsin. Since 1994, we have helped hundreds of households and businesses with animal & pest solutions. You can be sure that we've got a program that's right for your home or business. Not only do we offer a wide variety of standard services, we also have the flexibility to create a program designed especially for you!
Insulation Removal And Replacement Services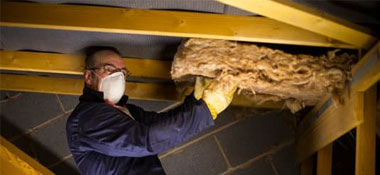 Is your home feeling a little drafty or uncomfortable after a recent pest or animal infestation? Francis Animal & Pest Control can help. We are licensed in insulation removal and replacement and serve the Twin Cities metro area as well as the entire states of Minnesota and Wisconsin. Sometimes pests or small animals can destroy the insulation in your home or office; give us a call to come fix it!
Our professional licensed technicians have developed a safe, effective procedure to remove old insulation from attics or crawlspaces. With this new procedure, you won't have to worry about any of it making its way throughout your home.
After the old insulation is removed, we replace it with the proper amount of new insulation. This will allow your home to be free of allergens from the old insulation and decrease your heating and cooling costs.
With this procedure you may save up to 30% on your energy bills! This procedure may also qualify you to receive up to $500 in federal tax credits. Give us a call today to discuss your options and get your home back to normal.